To find a hotel in Montreal, please click on the following link. The deal we have with HTG Sports allows us to offer hotel prices at the GUARANTEED LOWEST RATES, and more importantly for you, all booking can be done easily online!  Please note that all hotel registrations for the tournament must be done through this link.
Click below to find a hotel to suite your needs: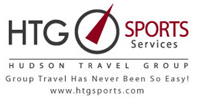 The success of our tournament relies heavily on the combination and co-operation of great volunteers and the partnerships that have been established with our sponsors. Hudson Travel Group is the exclusive travel partner for the Des O'Neill Tournament.
HTG has blocks of rooms put aside at very attractive rates at all of the participating host hotels. So, please be sure to contact HTG early to secure your accommodations.
For Details or Questions contact: Seymour Ward laseymourward@gmail.com